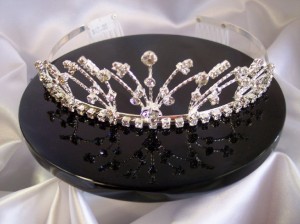 San Antonio Bridal Jewelry  pampers today's modern bride—and her bridesmaids—with a perfect blend of timeless, artful and handcrafted wedding jewelry designs, combined with a refreshingly modern edge.
San Antonio Bridal Jewelry is part of Atlantis Discovered. We are in San Antonio, Texas and specialize in Bridal Jewelry, Prom Jewelry  Quinceaneras and gorgeous costume jewelry. We have Necklace and Earring sets, Tiaras, Bracelets and much more. We can outfit your entire wedding party or everyone in your Quinceanera.
Our wedding jewelry incorporates shimmering Austrian crystals, brilliant cubic zirconia, rhinestones, organic man-made pearls, gold-tone finishing, brass with rhodium plating and a selection of custom finishes—the graceful elements of couture costume jewelry for the most important day of your life and a lifetime of beauty.
Our quinceanera jewelry is lovely enough for a princess but trendy enough to wear anytime. We proudly carry jewels and accessories for any occasion, for yourself and your friends. They're so pretty; you'll want to wear them both before and after the misa y fiesta.
There's a lot that goes into planning your wedding, prom, or quinceanera. You know how important it is that all the pieces fit together. Don't leave anything to chance. It's no different with your jewelry. You need the bridal earrings, bracelet, or necklace that suits you, your wedding dress, and the look you want on your wedding day. The range of designs, jewels, and finishes you'll discover with San Antonio Bridal Jewelry allows you to find the jewelry that is absolutely perfect for you on your wedding day.
Stop by Atlantis Discovered and see all the Bridal Jewelry that San Antonio Bridal Jewelry has to offer.
Look through our galleries to see samples of the types of items we carry. Stock changes often, so come visit the store to see all that we have.