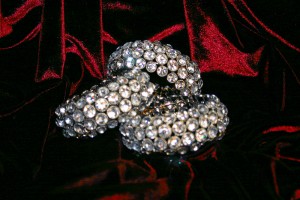 San Antonio Bridal Jewelry carries everything you'd need to accessorize your wedding or Quinceanera dress. We also have lots of jewelry suited for Proms.
We have Tiaras, Jeweled Head Bands, Necklaces, Earrings, Bracelets, Bangles, Brooches, and more. You'll find styles in Silver and Gold tones in simple and elaborate designs.
Designs may include rhinestones, austrian crystals in many different colors, pearls and much more.
San Antonio Bridal Jewelry is part of Atlantis Discovered, located at 7038 Bandera Road in San Antonio, TX 78238
Our stock changes very quickly, but we have a HUGE selection. In April we usually start building a larger inventory to last throughout the wedding season.
Please use the photos online only to get an idea of the types of jewelry we have, but consider that the exact style may not be available. All photos were taken in our store from our existing stock, but we sell out fast and styles from manufacturers change often.